In the spring of 2005, the Town of Orangeville commissioned Peter Turrell and Donna Pascoe to create a 7'-6" high sculpture of Orange Lawrence, founder of Orangeville, Ontario, Canada. Orange Lawrence was known as the man who brought life to the town, having set up the first Grist Mill, Lumber Mill and Tavern in the town of Orangeville. He was also the town Postmaster for a time. He was born in the USA in 1796 and moved to Canada where he remained until his death by his own hand in 1861.
Grand Valley artists, Donna Pascoe and Peter Turrell, pictured here with Mayor Drew Brown, will sculpt the larger-than-life statue of the town's founder, Orange Lawrence.
The Orangeville Banner
The statue of Orange Lawrence began with the proposal of a plastercene model, depicting the hands-on, self-made character of the man. He is shown with his sleeves rolled up, jacket thrown over his shoulder and a set of rolled plans in his hand surveying the area for his new buildings. He stands with his foot raised on a limestone block as the Mills were built of limestone from the area. The final piece made of magnesium phosphate, stands in front of the Town Hall on Broadway, in Orangeville, Ontario.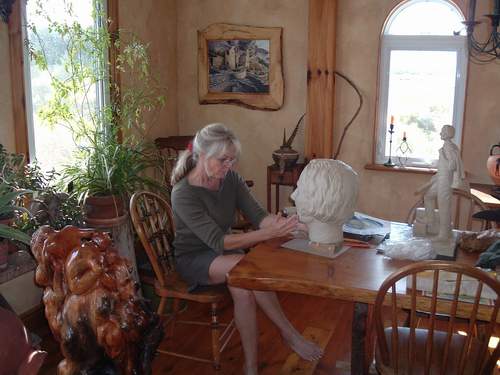 Donna begins the sculpture of the large figure of Orange Lawrence