Home | About Us | About the Directors | Current Research | Associates | Contact Us
Peter Turrell: Artist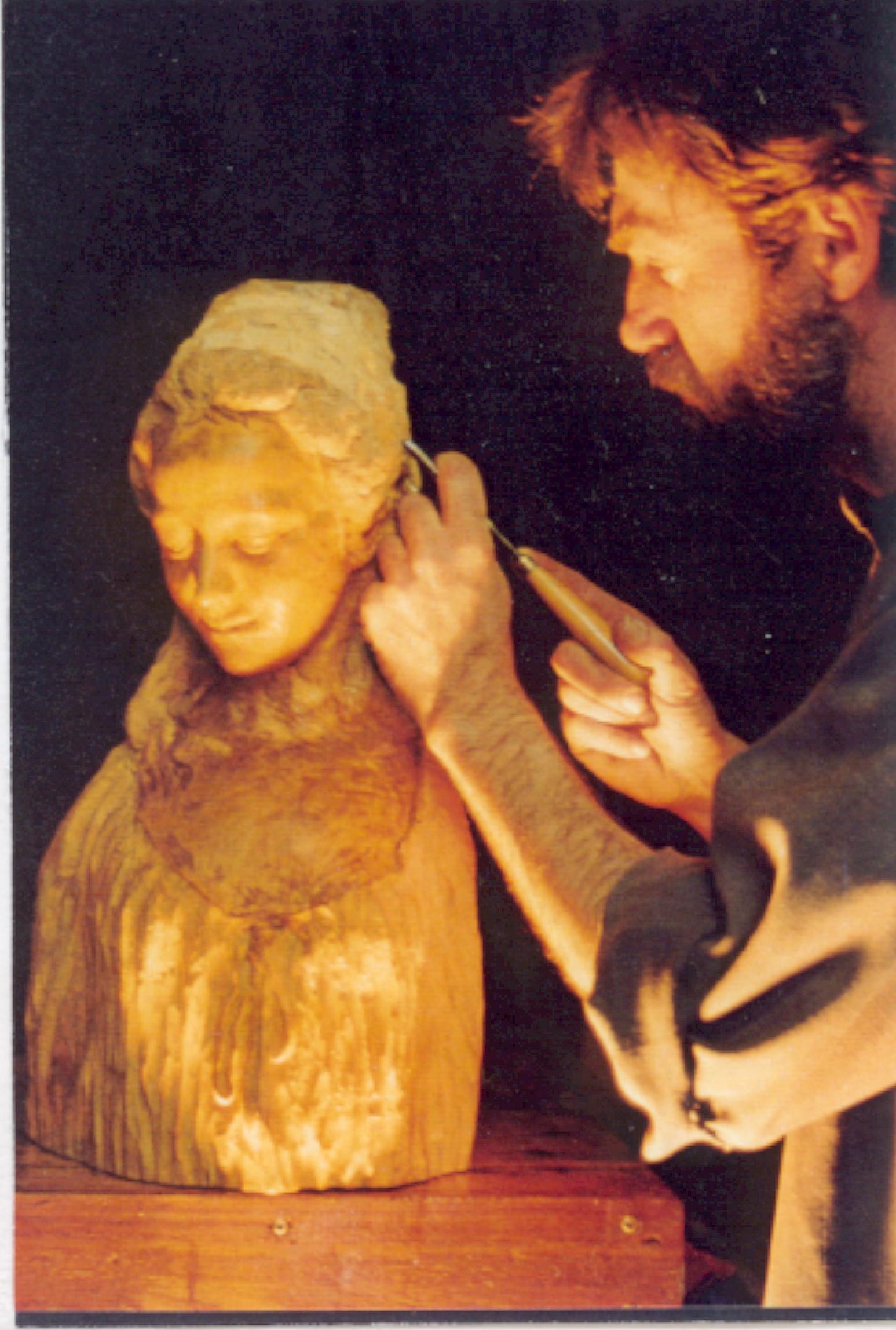 Peter Turrell is a Canadian Artist whose works include sculpture, painting and photography. He grew up next to the Luther Marsh Wildlife Sanctuary instilling in him a fascination with the Canadian landscape. His art has grown out of these early influences and shows a uniquely Canadian character, complimented by the opportunity to study with Native American and Classical European carvers while a young man. He has always considered wood his specialty and has spent a good portion of his life trying to make sense of the world through exploration and expression in this medium.

" As the sculptor, you are aware of what your audience will see, that's the technical side. The mystery is what they will feel. That's the part that makes you an Artist, the viewer to be pulled into the feeling you were trying to present, to provoke thought, challenge their sensory perception, touch their humanity. These are the goals of true artists. The development of a style that spans the ages, perhaps inspiring someone to perform an act of greatness in their own lives. It is my opinion that in this next century, the adversity will no longer be with the church, nor the state; but the division between being another ordinary person or a true spiritual Human Being. If in my life I were able to say I was part of a creative movement, like for example Impressionism or Cubism, I would like that it was 'the Age of Enlightenment'."

When not creating art, Peter feeds the other aspects of his personality by way of the Millennium Institution; a project founded by he and his partner Donna Pascoe, to promote and develop sustainable autonomous housing designs and environmental living. He feels this helps to balance his sense of priorities in life.

Peter's works are in public, private and corporate collections internationally and are recognised by his seal of the Stag's Head. He maintains a studio outside Grand Valley, Ontario, Canada.
The Millennium Institution
Donna's Links
From Art to Architecture
Donna Pascoe: Architectural Design
The Art of Donna Pascoe
The Art of Donna Pascoe: Painting
The Art of Donna Pascoe: Portrait Sculpture
Shared Links
The Art of Peter Turrell & Donna Pascoe: Wolf Doors
The Art of Peter Turrell & Donna Pascoe: Sir William MacKenzie
The Art of Peter Turrell & Donna Pascoe: Jesus Carving
The Art of Peter Turrell & Donna Pascoe: Orange Lawrence
Peter's Links
The Art of Peter Turrell
The Art of Peter Turrell: Sculpture
The Art of Peter Turrell: Wildlife
The Art of Peter Turrell: Painting & Photography
Email:
d.pascoe@sympatico.ca